Eames Lounge Chair, Womb Chair, Barcelona Chair… Unfortunately, most men let themselves be severely stereotyped when it comes to interior design and furniture choices.
Why make a statement about who you are when you can be content with your usual overstuffed and overused La-Z-Boy? After all, most people think that's what most men enjoy.
But most men don't know that the most iconic lounge chair of mid-century modernism are tremendously stylish and masculine while being miles away from the boring, traditional recliner. From the classic Eames Lounge Chairs to Danish s by Hans Wegner contemporary wingbacks.
Here are 5 examples of lounge chairs that every man will enjoy:
The Barcelona Chair
In a man's house, The Barcelona Chair, originally designed by Mies van der Rohe, would easily become a focal point. Its spectacular design has no arms, but given its unique design, the Barcelona Chair retains that essential "sink-in" ability that most men treasure. Owning this particular chair speaks volumes for the taste and design-conscience of its owner, an epic win for the average dude.
The Wassily Chair
If you're living in a loft, you might be interested in a chair that would reflect the industrial nature of that kind of space. The Wassily Chair, originally designed by Marcel Breuer would not only accomplish that but would also add an aesthetic, alluring layer tho the place. Despite the fact that Wassily Chairs are found often in overly modern environments, it's a design that goes quite well with I found they worked quite nicely with pine floors and chiseled brick walls. They also scream rockstar!
Eames La Chaise
Guys, don't be afraid. Chaise Lounges Chairs are awesome and they speak a great deal of the taste of the owner. La Chaise, originally designed by Charles and Ray Eames, can instantly make a bold visual statement in any room. This chair will not only become a focal point in any room you put it but it'll make it look like an exhibition worthy of the MoMA. Surprisingly enough, it's incredibly comfortable for a recliner this stylish. The Eames La Chaise is a unique piece that all women will like if you know what we mean.
Womb Chair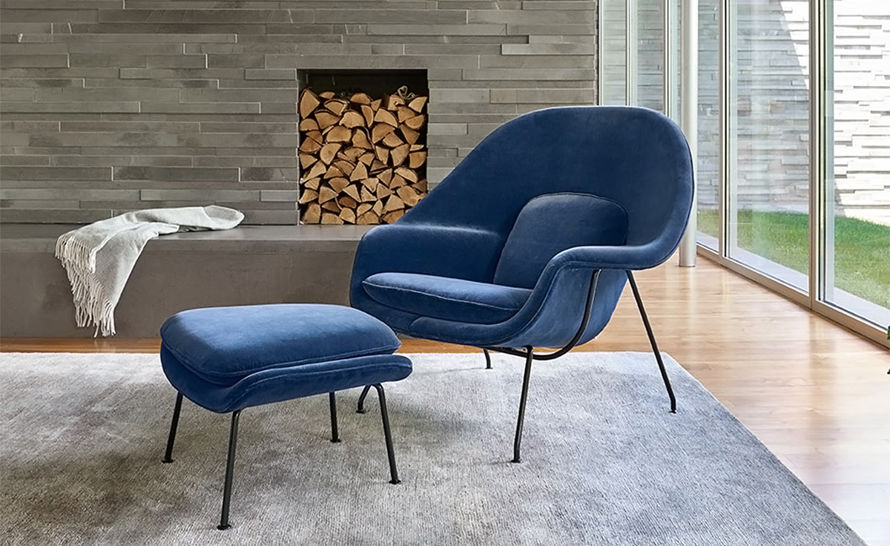 If you're a man interested in making a statement, go bold. Nothing is bolder than a bright colorful Womb Chair that fits perfectly in any corner. The Womb Chair, originally designed by Eero Saarinen, has a sculptural quality that allows it to stand on its own and really command a corner. Imagine what that could do to your home design.
Eames Lounge Chair
And now, for pièce de résistance, The Eames Lounge Chair. Now this, men, this is a proper lounge chair and ottoman. One of the most famous designs of mid-century modern design, the lounge chair designed by Charles and Ray Eames was developed to be a comfortable but handsome addition to a living set. Charles Eames said his goal for the chair was the "warm, receptive look of a well-used first baseman's mitt." If there's any lounge chair that's more manly than that, we don't know it yet.
Do you agree with our list? Any other chair that we missed? Stay tuned and let us know your thoughts in the comments below!