The Eames Lounge Chair is a classic 20th-century piece. Given its popularity as a classy and comfortable furniture piece in the United States, Manhattan Home Design has created an Eames Lounge Chair replica.
You can find the original design by Charles and Ray Eames in popular films, TV shows, offices, and thousands of homes all over the world. 
The Manhattan Home Design Replica is available in five colors: black, brown, antique brown, cream, and white. You can choose this color considering your taste and your home's current design.
Today we want to help make the selection process as easy as possible so your Eames chair replica can fit in with the current decoration in your home.
Eames Lounge Chair Features
Manhattan Home Design's Eames Lounge Chair replica is upholstered in top-grain leather. The thread is braided with Lockstitch ensuring long-lasting piping and seams.
The plywood is high-quality and engineered to prevent cracking. Manhattan Home Design obtains theirs from the USA, Canada, and Brazil.
The Eames Lounge Chair's cushions are removable, and it has a 360-degree swivel, as per the original design. 
Helping your Eames Lounge replica match your current decor
The 60-30-10 rule for colors means that you should divide the color scheme into percentages of color use.
60% of the color chosen should be the primary color of your room design. You can implement this on the walls, floor, curtains, and even some furniture pieces.
30% will be a secondary color, having only half the saturation as the primary color without competing for attention in your design, but contrasting and creating depth.
Finally, 10% of the color, called accent color, should be a third of the secondary color. Its purpose is to give interest and contrast to the color scheme.
For instance, if your room's primary color is gray, blue can be a secondary color and pink accent color.
You can also use a color wheel to help find a match for the colors you want to use. 
Design colors for your black Classic Eames Lounge Chair Ottoman
If you have decided to go with the classic black-colored Eames Lounge Chair replica, you have chosen a piece of furniture that is powerful and dramatic, and very easy to pair.
Black furniture goes well with neutral tones such as green, red, and yellow. By using these colors as accent tones, your Eames Lounge Chair will be a better fit in your room.
If you prefer a simple palette with few colors, your black Eames chair can also match with textures and patterns. Consider a striped wall, a detailed rug, or even geometrical patterns on your pillows.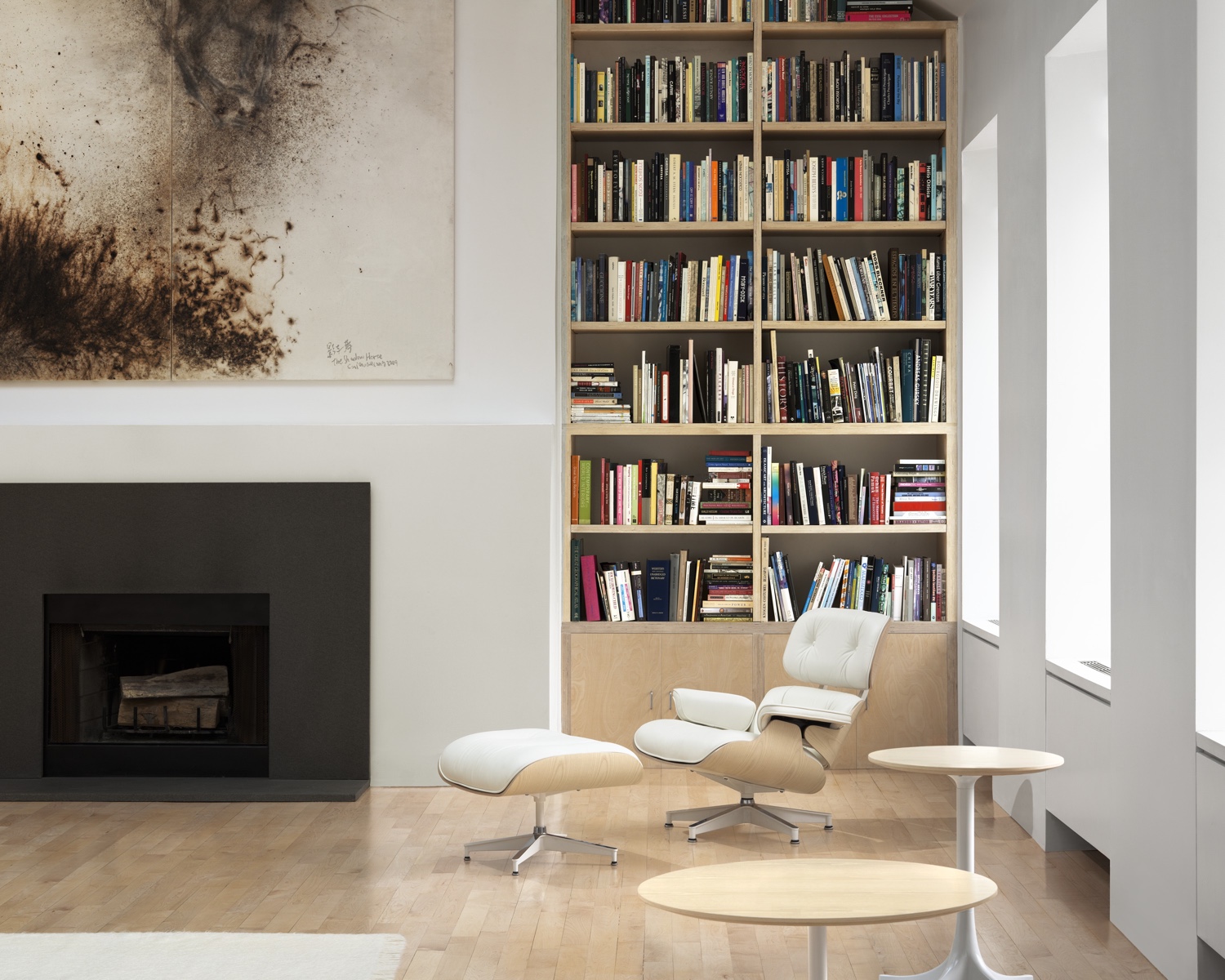 Combining the white Eames Lounge Chair & Ottoman
Manhattan Home Design also has a white leather Eames Lounge Chair & Ottoman with a black base. A chair this color will help the room's decor stand out nicely. 
The colors that go best with white furniture are pink, pale blue, gray, navy blue, chocolate, and mango orange.
Pink and white will give a romantic sensation making it perfect for bedrooms with a more playful feel. Pale blue and white will create a soothing atmosphere and produce a relaxing feeling. Gray and white make an excellent combination for bedrooms and allow you to add more colors to your decoration.
Navy blue goes excellent with white furniture and gives a very summer-like look. Chocolate-decorated rooms also match with the white Eames Lounge chair & Ottoman. White furniture and a mango orange room not only look good but are also sound Feng Shui combination.
Combining the brown and antique brown Eames Lounge Chair
With the brown and antique brown Eames Lounge chair color options, there are many decorating opportunities for your room.

Brown, when combined correctly, can be inspiring, cozy, and sleek. Brown is a neutral color that can be very warm and versatile, and many colors look great when matched with it. We've narrowed the list down to ten options:
White: White and brown create a simple but charming combination. If your room's primary color is white, your brown chair will work marvelously in it, giving the feeling of a luxurious and highly welcoming ambiance.
Blue: For blue rooms, brown furniture will give a modern and relaxing sensation.
Fuchsia: If you want to create an exciting atmosphere in your room, then this color combination is perfect since it will add poise and character to the room.
Yellow: Yellow and brown compliment each other beautifully for a fabulous aesthetic. A room with yellow as the primary color will look flawless with brown furniture.
Mint: A mint colored room with the right dose of brown will look remarkably sophisticated. If you like the fresh and organic vibe, brown furniture will give the room the final touches you are looking for.
Turquoise: Turquoise and brown is a very trendy combination that can go for a vintage tone or a contemporary one.
Gold: For an extremely luxurious look, combine your brown Eames Lounge chair with gold. If used in a table lamp or designs on the floor, your chair and the room will have an extravagant look.
Orange: Orange and brown are a good match that gives a warm feeling to the room. The energy of the orange color, combined with the neutral brown, will give your room a modern and sleek look.
Rose: Your brown lounge chair, in a rose-colored room, will give a uniquely feminine atmosphere.
Copper: Brown and copper will give your room a trendy and hip look. If you have copper accents in the room and you want an Eames chair, then go for brown.
Combining the cream Eames Lounge Chair
If you are in love with the cream-colored Eames Lounge Chair & Ottoman, choose complementary colors that will make it stand out in the room to draw attention to it.
Yellow, purple, red, blue, and orange go well with cream. Even though it's a neutral color, not all colors help cream-colored furniture stand out the way it deserves to.
Gray and cream produce a calming effect, as well as lavender, cream's complementary color. And, when paired with pure white, you can note the cream shade's subtle difference.